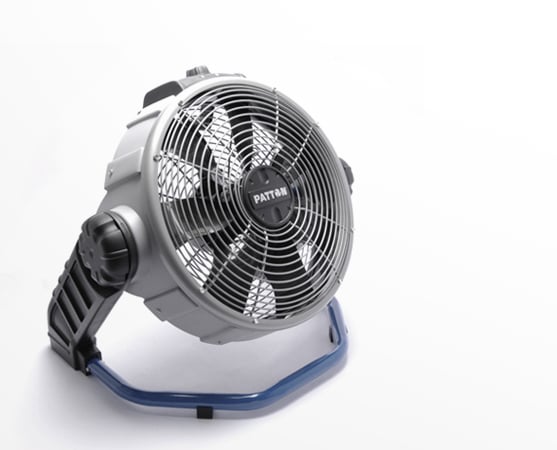 The Holmes Group
Fans

Farm worked with the Holmes Group on over sixty programs from 1999 to 2008, and was a key development partner in its Home Environment Market. One of the many development programs was the new line of high velocity fans, intended to address the real world needs of contractors and the home handyman. The result is an entirely new and innovative design utilizing a proprietary plastic blade and shroud that results in a 40% increase in airflow and is 20% quieter than current products. A rugged design incorporating a safety cage that protects the fan and motor and provides structural rigidity and impact strength was created to take the punishment of everyday contractor use. Farm also addressed the ergonomics by placing the power controls on the top of the fan for easy access and integrated a large molded handle for easy carrying and placement. Both are a first in this marketplace.
The Holmes Group
Heaters

The Holmes Tri-Ceramic Tower Heater, one of the many heaters Farm has developed, introduces several new features created specifically to meet consumer needs. This new heater features three ceramic heating elements for extremely high heat output, oriented in a vertical layout to lessen the heat energy from reaching the floor and creating a broader heat spread throughout a room. The tower configuration also provides a slim product profile that allows corner room positioning as well as greater flexibility in room placement.
The Holmes Group
Humidifiers

Farm partnered with Concepts NERC to develop a new line of humidification products that would deliver higher performance than the competition, while creating a strong visual brand identity for The Holmes Group. An innovative proprietary blade, airflow plenum and filter assembly was developed to maximize airflow and moisture evaporation, which increases output by 30% while remaining 20% quieter than the competition. The exterior form, derived from the functional enhancements, accentuates the performance attributes of the product by creating taller exhaust ports and a turbine grill pattern that reduces exhaust noise. The end result has been so successful that The Holmes Group's humidifiers displaced their competitors at many retail stores.