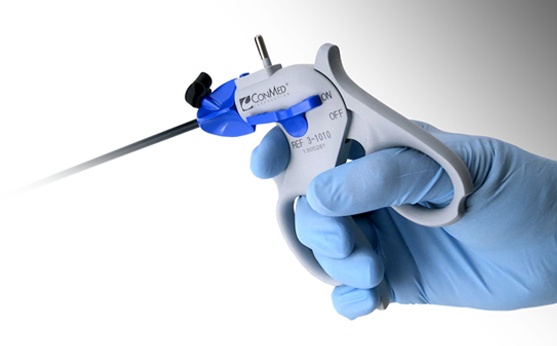 ConMed Corporation
DetachaTip Laparoscopic Instruments

ConMed, a leading manufacturer of surgical devices, asked Farm to help develop an improved version of its popular DetachaTip laparoscopy tool handle. ConMed challenged our team to design and engineer a new reposable (extended-use disposable) handle that would be more comfortable, offer greater control and precision, and address the wide range of hand ergonomics of surgeons' personal working preferences. We had to design the handle ergonomics for female surgeons without compromising the fit for a large male hand, and the controls on the handle had to be accessible for right- or left-handed use. Finally, despite being a limited-use instrument, the device needed to convey high quality and durability with the precise feel of a long-term, reusable device.
Our team carefully observed several laparoscopic procedures and learned that we could create a truly differentiated product if we designed it for the varied approaches that surgeons use for gripping the tool. Surgeons usually hold these devices like scissors, but in order to rest their hands during a long surgery, they often shift to a technique called "palming," where they cradle the tool in the palm of the hand. Yet another common grip approach is used when the surgeon holds the tool almost vertically.
Building on our extensive research, Farm began the process of designing the form of the handle and the tactile interaction points to accommodate surgeon work habits and ergonomic needs. As the overall design evolved, Farm's engineers crafted the part design and internal mechanisms to achieve a highly precise feel in the operation of the product.
The new DetachaTip offers significant improvements designed to help surgeons work more effectively:
Accommodates all five fingers comfortably when held traditionally or palmed;
Handle size and range of motion accommodate a wide range of hands, from small female to large male;
Surfaces have been carefully sculptured to significantly reduce pressure points;
Interaction area on the bottom of the thumb loop for an additional grip option when operating the handle at a high angle;
The easy-to-reach tool shaft rotation knob is carefully shaped for precise control by the index finger;
Tool release button is placed on top where it's easy to see and where there's less chance of accidental activation; and
No triggers or buttons on handle front, so as not to interfere with the surgeon's natural squeezing motions.
When holding the new DetachaTip, the user's fingers naturally fall into a comfortable position, no matter which grip approach is used, and it's easy to access all controls. Ed Connell from ConMed's marketing team said this: "When we put the new DetachaTip handle into a surgeon's hand for the first time, they initially think it feels weird. But then they operate it, they realize that every handle they've ever used has been far less comfortable. Every surgeon who tries this tool loves it."
ConMed Corporation
Hall 50TM Powered Instruments System

ConMed and Farm collaborated to create the Hall 50™ Powered Instruments System, a new generation of UL approved, autoclavable lithium battery-powered handpieces used by surgeons during large and small bone orthopaedic, trauma, sports medicine, spine, and cardio-thoracic procedures.
ConMed's goal was to create an ergonomic handpiece designed to maximize surgeon comfort and control. At the same time, ConMed wanted a design aesthetic that would express the legacy attributes of their existing powered instrument portfolio and guide the development of future products.
Farm's user-focused design effort was guided by voice-of-the-customer (VOC) research gathered by ConMed over the course of a year. Several concepts were tested with multiple surgeons, in multiple specialties, with multiple glove sizes to find the optimized shape for the handpieces. Data was distilled into a user "wish list" that gave Farm's design and usability team specific interaction touch points that were incorporated into the final design. At the same time, the aesthetic considerations and use of materials were driven by the client's interest in having the tools express ConMed's brand attributes of premium quality, precision, and durability.
ConMed's new Hall 50™ System combines dramatic improvements in ergonomics with precise performance, a standardized modular architecture, reliable, state-of-the-art battery power and convenient sterilization - all in a solution that delivers unmatched value for hospitals, surgeons and operating room staff.