A Farm development case study on Cooper Surgical's Trocar was recently featured in an article posted on Sustainable Minds' blog. The article focuses on the development of a new trocar, designed by Farm, to replace the existing, fully disposable plastic trocar currently in use today. The new sustainable design features a re-sterilizable metal main body combined with a small plastic disposable tip.
One of the challenges for sustainability in medical devices is single-use disposable instruments. While single-use devices are preferred for infection control and may have usability benefits (no assembly required), they also create a large volume of waste that puts an increasing cost burden on hospitals as well as the environment.
Due to the material differences between the existing and newly designed trocar, Farm was interested in whether the re-sterilizable instrument would actually score better in a Life Cycle Assessment (LCA). Farm used Sustainable Minds' LCA software to analyze the two designs. The result was an improvement with the combination reusable and disposable trocar scoring better based on the projected number of uses. The multiple re-uses of the metal trocar offset the higher material manufacturing and transport impacts. Even when factoring in the disposable plastic component over multiple uses, the re-sterilizable trocar still reduced environmental impact.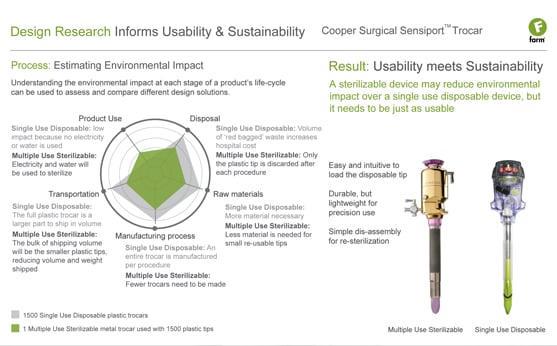 Farm realizes that sustainable product development creates real opportunities for competitive and economic advantage in the healthcare industry, including cost-effective manufacturing, optimized materials usage, minimized weight, and reduced waste. These sustainable strategies are part of the research, usability, design, and engineering philosophies that drive Farm's product development process. If your mission is to meet specific sustainability goals, Farm has a dedicated, cross-functional team that is trained in sustainable product development.
Read the full article on Sustainable Minds' blog.
Learn more about sustainable product development at Farm.