Back in September, Human Factors Engineer, Kristyn Berry, sat down with Shriya Srinivasan to learn about her role as former co-director of MIT's Hacking Medicine team. Founded at MIT in 2011, the team is made up of MIT students, alumni, and members of the community, and it seeks to drive medical innovation within the healthcare community. Hackathons are aimed at "hacking" or problem-solving over a short amount of time in order to find solutions to healthcare challenges. MIT's Hacking Medicine group has organized over 150 hacking events worldwide, bringing together a diverse team of individuals from the healthcare community, including engineers, clinicians, patients, developers, designers, policy makers, and business people.
How and why did you originally get involved with the hacking medicine group?
I was interested in learning more about the startup ecosystem, healthcare and medical devices. I wanted a learning opportunity to better explore that space, and hacking medicine is a great avenue to meet different students and stakeholders in the healthcare system. Over time, I also saw Hacking Medicine as an awesome opportunity and platform to drive innovation in healthcare, on a macro scale. The group has a simple, but elegant methodology that's highly educational. The design thinking principles that we teach enable participants to take on different healthcare challenges, distill them into their root problems, and then build simple solutions around them that are scalable.
In June of 2018, you stepped down as co-director of MIT's Hacking Medicine. What is your current role at MIT?
I'm starting my 4th year of my Ph.D. in the Health, Sciences, and Technology program. My research is on the border of human physiology and the latest on prosthetic technologies, robotics, and bionic devices. My research specifically involves redesigning the surgical paradigm for amputation so that we can better interface the human body with robotic prostheses for bidirectional signaling. I work in Hugh Herr's Biomechatronics Group at the MIT Media Lab. I was the co-director of MIT Hacking Medicine last year and just passed on the torch to this year's set of co-directors.
Who participates in hackathons, and what are their backgrounds?
We aim to convene individuals from all segments of the healthcare spectrum, from the patients and clinicians to the insurance agencies and medical device companies. We also invite key participants from the entrepreneurial ecosystem, such as public funding agencies and venture capital firms. Having the input of all these parties leads to solutions that are more holistic and often face fewer barriers to implementation.
How does the MIT Hacking Medicine team determine the focus or theme each year?
We review the latest literature and ask the community and industry thought leaders to determine what the most pressing issues in healthcare are. We also consider the ability of that specific focus area, or topic to be supported by funding agencies, regulatory bodies, and the community at large. This helps ensure that ideas kickstarted from our events have a well-resourced runway for success. The team works hard to invite mentors whose backgrounds are specific to those areas. It's all about tailoring the ideation environment to be optimal.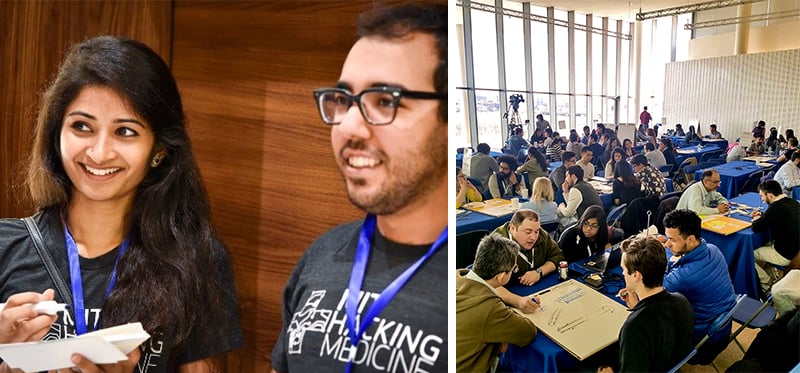 When our human factors team assesses the usability and the safety of medical and healthcare devices, we speak with end users, which typically involve individuals such as healthcare professionals, patients, caregivers and other individuals. What benefits and struggles, if any, do you see that these individuals experience when becoming involved in hackathons?
As expected, I think the biggest hurdle for individuals in any given field is to see beyond their own field and to understand others who may have a different set of experiences.
The Hacking Medicine philosophy of convening end users alongside the developers acknowledges the potential discomfort that individuals may face and encourages participants to use it to positively drive their discovery and ideation phases.
How can participants continue to pursue ideas generated from the event? Do the ideas that are generated continue to be pursued?
With most hackathons, there's often a dearth of institutions and external organizations that support ventures that arise from the hackathon after the event. This post-hackathon time period is one in which many startups require quite a bit of mentoring and initial startup funds. There are few accelerators and incubators that are willing to take on such startups in this early stage. To this end, the Hacking Medicine team implemented the first post hackathon event last February. We invited selected teams back to a 'post-hack gala' in which they presented their progress to a crowd of professionals from all walks of healthcare. This was headed by Freddy Nguyen and a wonderful post-hack team, which will be repeated in 2019.
On a side note, we've seen great success in a handful of cases in which the government has committed to help ventures obtain funding and development tools.
How does Hacking Medicine partner with local incubators?
We have a growing consortium of incubators, funding sources, mentors, and accelerator programs that we can recommend to our teams. Over the years, we've worked to develop this post-hack pipeline, to maintain and nurture the value that is produced at the hackathon.
What are some obstacles that hinder the success of hackathons?
Three things come to mind. One: Like we discussed, when there isn't sufficient follow up after the event, it leads to fewer startups. Although, participants who attend receive great exposure to a design thinking methodology, develop new connections, widen their networks, and often leave having learned important principles for application.
Two: When intellectual property (IP) becomes a point of contention during the hackathon, less progress is made. During hackathons, we advise participants to steer clear of the IP conversation until much later in the development process.
A third pitfall is a lack of diversity. Sometimes engineers will team up with their engineer friends, or clinicians with their clinician friends, and that's defeating the entire point of the hackathon.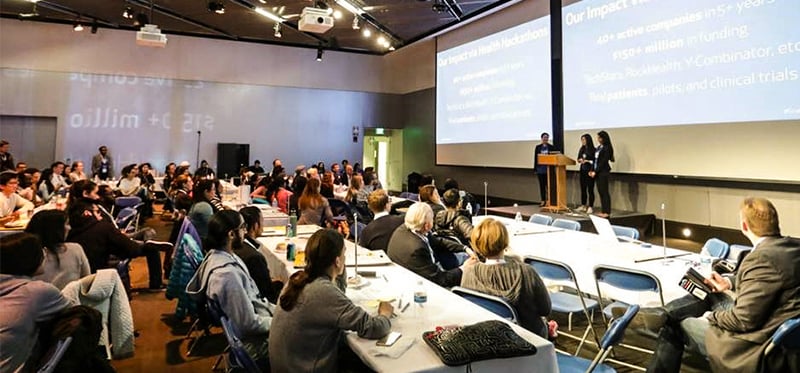 Are there strategies used to encourage effective collaboration during hackathons?
That's a great point you bring up. After last year's hackathons, we discussed doing a short workshop on communication, effective teamwork, and managing group dynamics to promote an atmosphere for everybody to speak up and voice ideas. It's something we could implement. Right before our Grand Hack, we spend about two months training our own team on multiple skills, including numerous facilitation strategies. These help us encourage discussion and mediate any conflicts that arise.
I know that industries other than healthcare and medical do hacks as well. Do you think that there are any specific industries that hackathons work particularly well for or could utilize hackathons more?
Yeah, a great question. Industries where progress has stagnated could use a hackathon to generate fresh ideas.
I'll provide an example using a hack we executed in Eastern Kentucky.
The Appalachian region of Eastern Kentucky is one of the areas most severely affected by the opioid epidemic. It is also a region with very poor socioeconomic indicators and high rates of diabetes and obesity. Despite significant government efforts, the population there was seeing little to no relief for all three healthcare challenges. We put together a hackathon in this region, partnering with a local organization called SOAR (Shaping Our Appalachian Region) and the CDC. The hackathon was the first of its kind for the region and represented a step towards public health change driven by the grass-roots, and it was a grand success. Nearly a third of the solutions (including apps, community programs like a syringe exchange program, an uber for Narcan, and new physical exercise programs through the Boys and Girls club) created at the hackathon were pursued and implemented. Participants left the event feeling refreshed and empowered with a sense of agency – that they could take their local problems into their own hands and collaborate to develop real solutions. While funding and other entrepreneurial resources to spur startups are often constrained or lacking in these types of geographical areas, the ability of the hackathon methodology to generate ideas and mobilize diverse community members provided significant value to the community.
Many hackathons today are focused in tech-rich, entrepreneurially savvy geographies and industries. In the future, more hackathons in public health and low resource settings could be carried out.
It would be interesting to see if hackathons could be applied to solve policy or governmental challenges. But this would likely be challenging, because you'd need to have the big leaders at the table, willing to participate with few external motivations other than to drive change.
Thousands of hackathons happen each year across the world and more and more are popping up in other industries. Do you see anything changing for the future of hackathons, or do you think there's a way we could hack the hackathon?
I think it is applying this hacking methodology to different systems; it really tests the principle of whether the change in thinking and methodology makes a difference. Our preliminary experience in this practice suggests that our process is quite adaptable, but it would be worthwhile to stretch our tools and see how far they will apply.
For more information about MIT Hacking Medicine, please visit their website: hackingmedicine.mit.edu.