A few months ago I attended my first hackathon, MIT Hacking Medicine's Grand Hack 2015. I made a 3-day commitment to immerse myself in a world of healthcare and medicine, amid designers, scientists, engineers, developers, clinicians, entrepreneurs, and business people with varying backgrounds. I call it a "commitment" because I entered a bubble-like microcosm of creative, curiosity-driven minds, some of whose careers put them at the forefront of today's healthcare challenges, and others who are personally motivated to make a difference in the world of medicine. Some had attended hackathons before, and some were first-timers, but all were there to address user needs and pain points in an effort to solve existing healthtech challenges.
Day 1 began on Friday evening. I found myself with 700 other participants, listening to a series of leaders in healthcare and medicine talk about existing challenges. The hackathon is divided into four tracks: Global Health, Primary Care, Telehealth, and Wearables. Despite already choosing to participate in the Wearables track, I was debating my decision by the end of the talks. I hadn't quite understood the term Telehealth, but I found myself thinking about all the powerful ways healthtech could connect patients and doctors around the world. I was also thinking about how I could make a difference in healthcare on a global level. If you consider all the experiences a patient has while in a typical clinical setting - a doctor's office; a hospital - it's interesting to imagine how those experiences could be personalized and improved. After the talks, we broke out into tracks and I decided to move forward with wearables and see where it led me. As the discussion began several people already had healthcare pain points that they wanted to solve. People were given 60 seconds to explain these pain points without focusing on solutions. The purpose of this exercise was to get people thinking about the people affected by the problems first. Some participants had actually experienced the pain points they described and that made the need to solve the problems all the more real. The pain point I pitched involved medication interactions:
People with chronic conditions - particularly psychological conditions - are often on multiple, similar types of medication at the same time. If patients could have a clear, easy way to track which medications are having which effects on their body, both patient and doctor could more effectively address symptoms.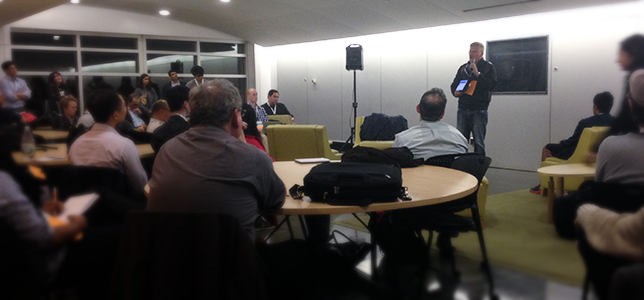 After about 25 pitches, the people in our track mingled and discussed. There's no better feeling than putting a very preliminary thought or idea out for discussion, and having people approach you, deeply interested in your idea and wanting to explore it further. After Friday night, it was evident that some people had already identified problems and ways to solve them and were interested in attending the hackathon to recruit people to further develop those solutions.
On Saturday morning, several alumni of the hackathon told personal stories about successful solutions they had pitched the previous year that had become the basis for viable businesses. We were instantly motivated to think about what we wanted to accomplish for the weekend. Many of us focused on winning, convinced they had creative solutions to healthcare's biggest challenges. Others were just there to have a good time. My reason for attending was to problem solve, brainstorm, and meet new and interesting people from a variety of backgrounds. Possibly the most exciting part about the hackathon was seeing the different cultural backgrounds of the participants. Ten countries were represented, and each country experiences different pain points within healthcare.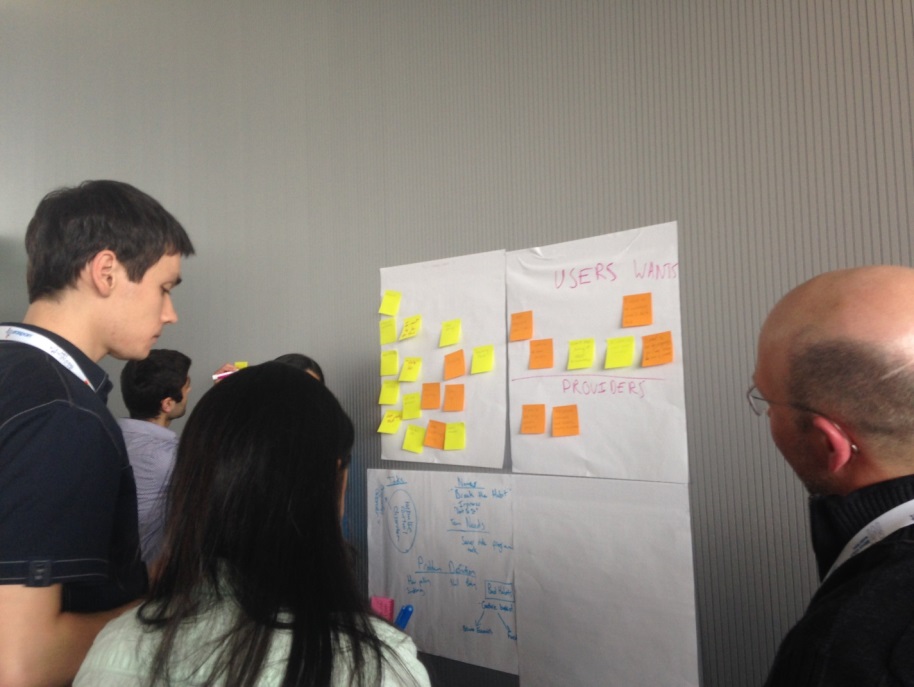 That morning, attendees presented their pitches within each track one by one. Some pitches had been developed further from the night before and others were entirely new. Afterwards, everyone had the opportunity to further discuss pitches and form into groups. My group was made up of people with backgrounds in ergonomics, UI design, programming, and business. Our solution was focused around people who have habits that they'd like to break, specifically habits characterized as Body-Focused Repetitive Behavior (nail biting, hair pulling, face touching, etc.), because these habits can lead to physiological damage and embarrassment. The idea came from one of our team members who knew a young girl who suffered from an extreme case of trichotillomania (hair pulling). Our team decided to focus on the wider realm of breaking many different types of habits, including hair pulling. During the rest of that day, each team brainstormed solutions to their pain points, exploring how they could use pre-existing technologies (e.g., wearable health devices like Microsoft Band, Jawbone, and Myo Arm Band) to develop their prototypes. In addition to coming up with creative ideas that kept the end user in mind, we also had to generate solutions that would fit within a feasible business model. Throughout the day, our team conducted surveys, interviewed end users, and talked through our ideas with mentors of various backgrounds. Each person used different processes to brainstorm, and together we figured out how to be most effective and cohesive. We accomplished in a day what would usually take a development consultancy weeks.
The last day of the hackathon found the teams from each track excited, bleary-eyed, and bustling. Many had stayed up all night working on their solutions. My team finished up by analyzing our data from the survey responses, nailing down our business model, and organizing our presentation. At the end of the day, each track presented their final output. Our track had developed impressive and disruptive solutions to pain points in diabetes, hospital and patient care, and more, addressing the needs of end users of all ages.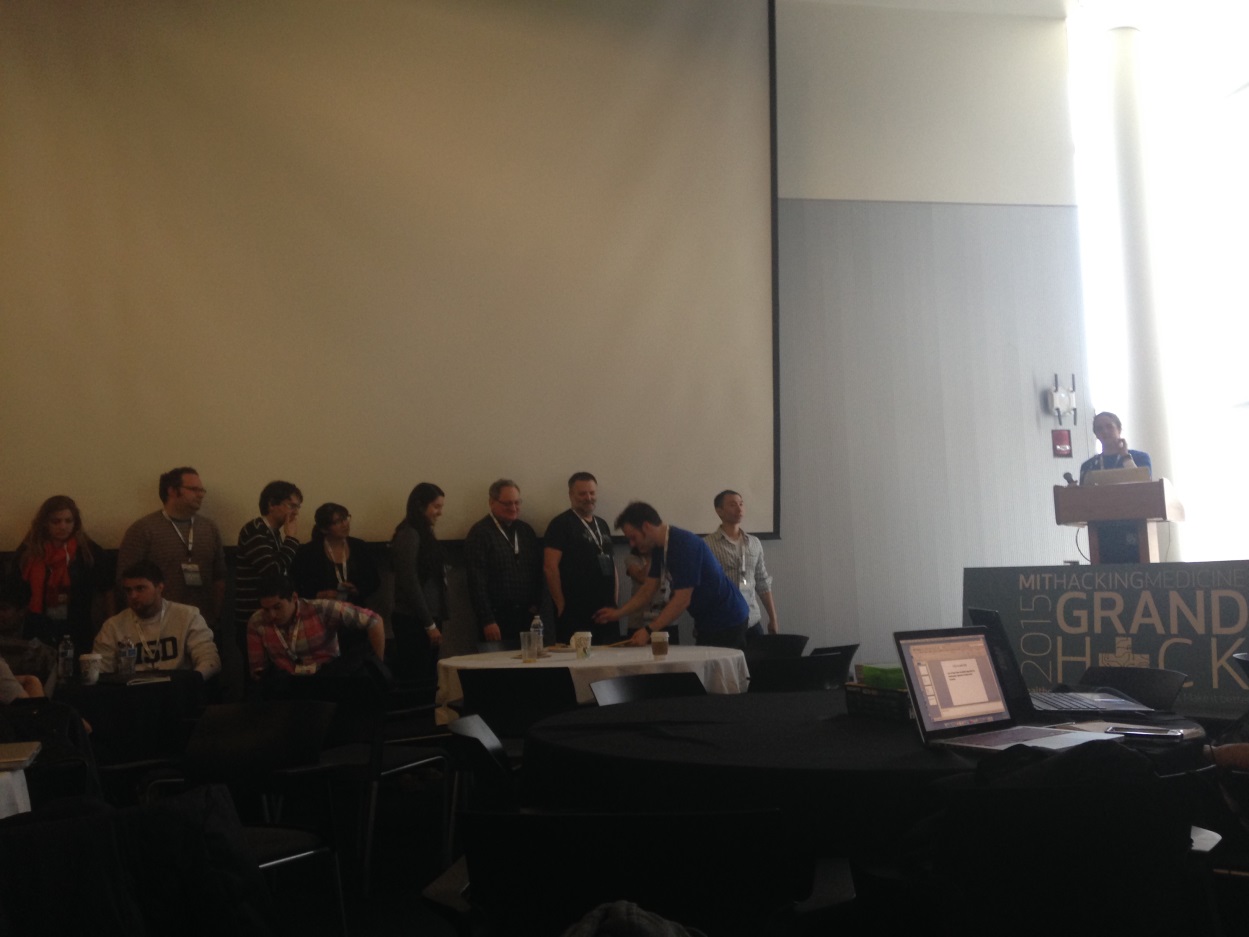 During the awards ceremony, teams from all tracks squeezed together on the sixth floor of the MIT Media Lab to hear if all their hard work that weekend had paid off. Unfortunately my team was not one of those winners, but everyone who attended was recognized as innovators and creative thinkers. The hackathon had allowed us to explore ideas, take risks and tap incredible resources in our quest to solve healthcare challenges. The event left us with a network of friends and an eagerness to participate in future hackathons.