It's become critical in today's medtech landscape for medical device OEMs and startups to work with outside partners when transforming a technology from concept to commercialization. Increased pricing pressures, burdensome government regulations, and swiftly-evolving manufacturing techniques have made outsourcing a critical component of the development process for most medtech companies. According to a study by Grand View Research, the global medical device outsourcing market is expected to reach $50.37 billion by 2020, and outsourcing has helped OEMs reduce the cost of production by approximately 15%.
Outsourcing design and engineering to a development partner, choosing a contract manufacturer (CM) and identifying parts suppliers can add layers of complexity to the product development process, but there are many ways to make these partnerships more efficient.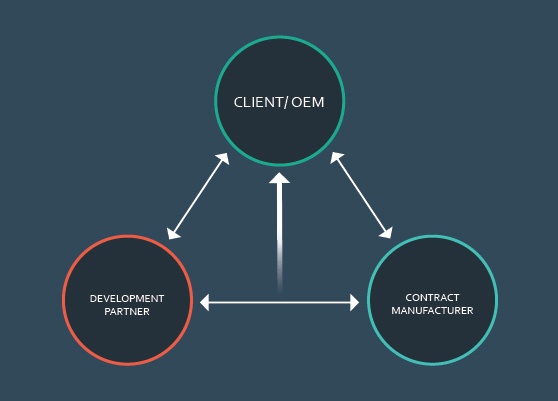 Be clear about roles, responsibilities, and expectations
As with any team, each member may play either a primary or supporting role at various times in the overall process. Recognizing, defining, and communicating these roles during the development cycle is important for grounding expectations within the team. But it's also important to:
Negotiate support expectations early

. CMs and part suppliers often say they want to be involved early in the development process, because leveraging their expertise improves performance and (hopefully) reduces the cost of the final product. But be aware that these partners may not like being pressured with excessive requests for design for manufacturability (DFM) and cost analyses early in the program, as this diverts their resources from more immediate projects. Negotiating expectations in advance is integral to the development direction and helps build a cohesive team.

Define who will assemble prototypes within each phase

. Early prototypes should be assembled by the development partner because they can more effectively evaluate, debug and improve the design. But we've found that it's beneficial to the program for the CM and development partner to work together when assembling the later-phase prototypes, such as production equivalent units (PEUs) that are intended to fully match the production design.

Define who will do the testing

. Done correctly, developing a new medical device requires several phases of testing and verification. Any of the partners involved can develop the protocols and perform the tests, but in general, testing that will result in important feedback is best done by the development partner while the more rigorous verification should be done by the CM or client.

Define who qualifies suppliers

. For larger OEMs, this is typically done internally. For smaller companies and startups who do not have the relevant experience, this can be done by the development partner or the CM. Better CMs will have approved vendor lists (AVLs) that include all of the required manufacturing technologies (e.g., PCB fab, injection molders, etc.), but occasionally a project will require a technology that is new to the CM. This is where the development partner can add value by recommending suppliers.

Define who inspects prototype parts

. Part inspection is one of those tasks that's often overlooked during prototyping because everyone on the development team is frantically completing designs and planning for fabrication and assembly. CMs and part suppliers are best equipped to perform inspection and provide detailed reports of production parts. For programs that require any sort of pre-verification in their plans, inspection of prototypes is critical but can take a significant amount of time to do correctly, so this role should be assigned in advance.
Practice constant vigilance to minimize surprises
A huge part of what makes a project successful can be traced to team members who, because they communicated effectively, prevented unexpected issues from having a negative impact on the development schedule. The trick is to find the right balance when planning a communications strategy. A lack of communication will inevitably lead to nasty surprises, but "overcommunicating" – too many e-mails or too many meetings – can negatively affect productivity. Any communications approach should be in place to help all team members do their jobs more effectively.
Other ways to be vigilant include:
Don't underestimate the importance of effective program management

. Project leaders working within tight budgets are too often drawn into crisis mode because they've mistakenly assumed that all program management was being administered by the client. Diligent project planning needs to be done by all partners.

Generate and maintain a master schedule that can be referenced by all partners

. There are effective tools for generating a detailed project plan (e.g., Microsoft Project). Smaller projects can use less formal planning tools, such as a spreadsheet. Whichever tool you choose should make it easy for each member to quickly and efficiently see the line items that pertain to them without having to dig through the entire plan. However, be careful of giving too many team members the ability to make edits, as this can complicate the plan and cause confusion among partners.

Generate and maintain a cross-functional, open issues tracker and keep it current

. The tracker should focus on system-level issues while each partner is focusing on issues that pertain to their core responsibility. This is critical for larger projects and independent teams. Keep the tracker appropriately scaled and of a manageable size. For larger projects, a cross-functional, open-issues tracker can be used that only includes the issues that impact the overall team.

Be ready for the unexpected to mitigate development delays

. Major project delays can occur where a product suddenly – and unexpectedly – requires significant technological invention during development. Because of the time, effort, and "unknowns" involved, such invention can be difficult to plan around, but experienced development managers know that there will always be the possibility that this additional work is required. However, unexpected project delays more typically come from major shifts in the design direction. Two specific offenders are:

Feature creep. All too often, OEMs and start-ups are blamed for piling on new requirements during development, but each team can be guilty of adding new requirements in the name of an improved product, reduced cost, etc. It takes a program manager with a will of iron (and strong negotiating skills) to keep feature creep under control.
Risk. The team should generate and maintain a risk tracker that includes any technical or program-related risks that the overall team, especially the client, should be aware of. Setting up a good risk tracker ensures that challenges to the program will be addressed as early as possible. It also ensures that upper management is aware of the risks so that tactical decisions can be made to either accept a risk or make a contingency plan.

How partners can support each other


As with any partnership, every member of the team needs to understand how each partner can support the other, but this will depend upon the level of each partner's expertise. If all partners are exceptionally qualified and experienced in each of their individual roles, this understanding should be in place at the beginning of the program. That being said, it's always wise to hope for the best, but plan for the worst.

Some areas of opportunity include:

Minimizing product cost is a team effort

: While the contract manufacturer is primarily responsible for determining the product cost, the actions and demands of all partners involved have a direct impact. Ford Motor Company's long-accepted rule of thumb is that about 80% of the cost of a product is fixed in the first 20% of its development cycle. The client should calculate and provide a product's target cost to the development partner as early as possible in the development process. Often, smaller OEMs and startups in particular lack the expertise to determine a target cost. In these cases, a development partner with a strong background in bringing products to market (like Farm), can assist by providing estimates to the client to help generate a target cost. A CM can supply even more accurate estimates, but they'll typically require the design to be fairly well defined.

Design for manufacture and assembly (DFMA) to reduce cost is also a team effort

. The development partner is responsible for the design of the product, but the CM can play an effective support role during development. An example of this concerns printed circuit board assemblies (PCBA). The development partner may not care if a simple PCBA is 1 or 2 sided or surface-mount-only, but the CM may be tooled for high-speed, surface-mount-only manufacturing. Another example concerns the method of joining plastic parts. CMs typically have process expertise and preferences that the development partner can accommodate, such as screw assembly versus ultrasonic welding versus adhesive bonding. Including the CM in the conversation helps the team choose the most appropriate manufacturing process. The CM can then supply process guidelines to help the development partner complete the design.

"Stretching" manufacturing technologies isn't just for the CM

. Most new products can still be made using standard components and manufacturing processes (e.g., simple circuit boards, sheet metal or injected molded plastic parts, etc.) and industry-standard tolerances. But more complex products may require pushing design and manufacturing beyond their "standard" limits (such as by requiring extremely tight tolerances or the inclusion of a new technology). For these more complex projects, a team can still achieve improved product performance, hit cost targets and make deadlines if the development partner and CM work together early in the development cycle.

High production volumes require collaboration between development partner and CM

. Automated assembly by the CM can be a huge benefit to high-volume production. This can include vision systems and robotic handling and may require the addition of special features to individual parts, such as molded-in fiducials for the vision system or features that a robot can grab. Details like these will require close collaboration between the developer and the CM.

Beware the gotchas

We've all lived through projects that could have been more successful and then spent hours discussing what we could have done better. Effective development teams take these experiences and apply them to minimize schedule-and budget-busting problems in subsequent projects. Often these problems are caused by putting off "trivial" issues at the beginnning of a project for the sake of focusing on the bigger challenges-procrastination that eventually results in those small challenges ballooning into bigger ones.

Some examples to watch for:

Resist the temptation to build an "over-the-wall" culture

. The classic example is delaying the selection of a CM and/or part vendors until after the design is complete under the assumption that bidding out the more fully-resolved design will result in lowest costs. While this could save a few cents on simpler parts, it often results in a design that's prematurely designated as "complete" but will have to be re-opened for at least minor refinement on the more complex parts.

Standards and templates are most effective when used from the start

. Examples of this include company-accepted drawing format and specification templates, standard drawing notes, and part numbering schemes. Distribute these administrative assets at the start of the project and you'll save time and effort by eliminating duplication of work.

Define a fastening hardware strategy that works for each partner

. Nobody buys a product because of the fastening hardware, yet inevitably, bills of materials (BOMs) and CAD models require updating in the 11th hour to change the screws from machine to self-tapping, metric to ISO, zinc-plated steel to passivated stainless, or Phillips to Torx. And selecting some specific screw lengths as a baseline in advance of detailed CAD development can reduce the prolifieration of so many hard-to-distinguish lengths that can be cumbersome in manufacturing.

Cables and labels are typical "gates" for production

. Why? Because they aren't sexy, so they don't get the focus they deserve. It's not uncommon to be frantically specifying and documenting the details of cables and graphic content for labels and printed graphics while the rest of the parts sit in storage at the CM waiting for production. Product packaging is often a "gate" for the same reason.

Concept-to-product realization projects done by partners who collaborate effectively are much more likely to result in products that meet or exceed the OEM's goals. OEMs that understand how their partners work and communicate with each other, and that are proactive about engaged planning with those partners, are at the core of an effective partnership. In this era of multiple outsourced partners, project success is all about experience, communication and planning. As Benjamin Franklin said, "If you fail to plan, you are planning to fail."